OM is a brand new fusion band from India. They are group of young musicians with very unique talent. They are out with their new album that contains musical Flavors from north, south East, West of India cooked nicely on a Western base. This is the maiden album offering from the group. The group comprising Shriram Iyer (lead vocals), K G Vishwanath (mridangam, ghatam, khanjira, djembe), Amartya Rahut (lead guitars), Amit Trivedi (keyboards) and K G Ramnarayan (ghatam, khanjira, djembe, percussion), show lots of maturity and professionalism. You can "hear" the album in music India online. Just to enhance your hearing experience, let me continue my review.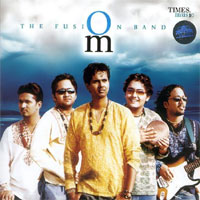 It is the song Man Ke Darpan Mein that got my attention right away. Why? It comes close near Shanker's Breathless, hey wait that was a compliment, I was happy to hear the same freshness "Breathless" came with a decade or more go. It is long since I heard some arranged string sections in Hindi pop genre. Fluent flute, solid sax parts were honey drops that padded the melody well. Followed by Maula, this song sounded like a rock fusion with lead guitar phrase. My little musician brain wished for some serious vocals harmonies at least over the "sunZRA mela" lines."
Ok, Ok Srikanth that's enough", "alright",
Let us move to the best song [IMVBSO=in my very biased and subjective opinion], maulaMohana, I like the most in this album, it was very nicely done with wonderful "jathi" vocals over a very soft melody, they managed to eliminate unwanted "noise" that most composers are forced to use these days. The arpeggios [Korg Karma?] are put to very good use, lots of hip sounding arpeggios fills the aroma.
After the mesmerizing maulaMohana, it is followed by Piya, a slow number with good set of vocals harmonies. Here too again lots of prudent use of synth arpeggios that spins around the main melody. Samjhayun Kaise Mere, opens quite well, I heard few familiar sounds [Emu-planet earth?,] however the best part of this song are the BMX organ phrases. Very nice placement of raw organ sounds, frankly organ sounds over Indian melody is a rarity. I wish they had female backing voice in this track. "
Why? Hey I need to show off my composer class right
". There was also the old-fashioned hand click sound panned hard to left and right.
Son Chiraiya - frankly on a sweeter note, this song reminded me of R.D.Burman, Why? lots of Bengali music phrases and trend in the composition. I see now why my good friend and vocalist Raja Govindarajan recommended me this album, "Bengali like compositions" - his musical weakness is simply 3 words, "Pandit Ajoy chakraborty" "Kudos" to the composer of this track. I wish I could learn some of the diversity we hear in this track.
Tum Tana: A "rAgam" and "thAnam" I would also call this as a club mix fusion, just some edits in few places with a Bangra loop, hey! pubs in New York city watch out for this foot tapping number dance number in the rag "Abheri". Yes, this song was based on pure Abheri. Some one in the band used their Carnatic roots quite well.
Ok "Srikanth!","how come you are so appreciative and positive today? Are you in a good mood?" Wait, "do not rush, it about time to expose my musician brain",
please allow me to grumble or nitpick a little, It is all for good.
The only factor that kept lingering in my head was the keyboards and drum programming, they could do it better, much better, I felt some lack of experience in programming. Sound modeling is the keyword or code word or password word in today's fast paced pop music world. Proper sound modeling is must for any fusion music.
I agree on stage they play play it live, it is ok to go without much sound modeling on stage, but on a CD, an average "crazy fellow" like me hears the track about 200 times a week, If the sounds are not selected properly, after 120th run, it becomes boring.
"Oh no stop! Srikanth please prove your theory", "very easy", "my big boss A.R.Rahman",
any number of times you hear his songs it seems to sounds better every time. It gets on you slowly, True, accept it. Because his sounds catch your attention very slowly, their presence is established very slowly on you. Ok Srikanth "cut the crap", What's the problem here? Ok, here it is.
I had problems with the sounds they picked. Today sounds are vital for a composition. Basically if 60% of your music comes out of a synthesizer, it very important to choose proper sounds that exposes only 30% synth quality. This comes by practice. For such sophisticated vocals and melodies, I felt the sound they choose were kind of ordinary, especially the Dx7 bells sounds for chord, hey this sound is around for last 25 years now, frankly cling clung cling chords changes are kind of old.
My point is the band needs to have new set of sounds to their recording from their live shows. However, I am very sure they will get it get right in just few more albums. It is just matter of time, folks, that's all. My Nitpicks ends here.
To close down my review In a nut shell, these guys have a great musical sense and music taste, for example the chords are not just placed as a formality, every placement shows they clearly know what they are doing, other than gripe on the DX7 bells, hats off to those prudent chord progressions.
I would buy this CD right away; Why? my ears are waxed up with the 6/8 syndrome, thanks to Tamil cine music, 9 out 10 songs from Kodambakkam are infected with this "Fast 6/8 Syndrome" bug, though in Hindi this album is fresh! music.
I would request people get it asap, please do it legally instead of downloading it from a website. In fact God willing I would love to produce an album in Tamil with these guys. ,
hey wake up day dreamer, that's enough! Ok! Ok!
I got carried away,
Watch out! , this band is going to go places.